Saulius Žukas
Vilniaus Universitetas
Baltijos jūros rytiniame pakraštyje klimatas yra jūrinis,  tačiau gana greitai – judantiĮ rytus – pereinantis į žemyninų. Temperatūros svyravimai sudaro keturis metų laikus, maždaug vienodos trukmės, su nuosaikiais vasaros karščiais, gana lygia lietingų ir saulėtų diena kaita. Žiemos, ypač einant į rytus, darosi ilgesnės ir šaltesnės, todėl sutrumpėja augalų vegetacijos periodas, kurio vos pakanka subręsti javams. Bet pietrytiniame Baltijos jūros pakraštyje esantis Klaipėdos uostas navigacijai tinka ištisus metus. Klimatą, kurį galima laikyti vidutiniu, atitinka ir peizažas – tai lygumos, vietomis paįvairintos kalvų, niekur neviršijančių 300 metrų, ir gausūs vingiuotais krantais ežerai. Savitas šio kraštovaizdžio bruožas – įspūdingas piliakalnių kiekis (jų Lietuvoje apie 900). Tai istorinę praeitį primenančios savotiškos dirbtinės kalvos, ant kurių būta įtvirtinimų. Bendrą koloritą peizažui teikia ir miškai: beveik trečdalis žemių apaugę miškais, kurie dažniausiai yra pramaišiui lapuočiai su spygliuočiais.
Pátio de Săo Joăo –
Universidade de Vilnius

Castelo de Trakai
Landscape
The climate along the eastern shore of the Baltic is maritime, but as one moves eastward, it quite rapidly becomes continental. Temperature changes mark four seasons of approximately equal duration, with moderately hot summers, and a fairly equal number of rainy and sunny days. As one travels east, the winters become longer and colder, reducing the time available for plant growth and the ripening of wheat. The port of Klaipėda on the southeastern coast of the Baltic Sea, however, is open to navigation all year long.
The country's landscape matches its temperate climate – a level countryside varied by occasional hills less than 300 meters high, and numerous lakes with twisting shorelines. A distinctive element is the impressive number of castle mounds (Lithuania has more than 900). These are unique man-made hills, once topped by ancient fortifications, now reminders of the historic past. Forests add to the overall coloring of the landscape: nearly woods made up of mixed deciduous and coniferous trees cover one third of the country.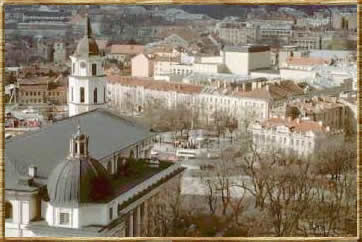 Vilnius